Celtic (Black) Belt Buckle
£16.95 (Approx $26 / €20)
Product details
A beautifully designed and hand finished circular buckle with a design of an unbroken swirl with a 3 dimensional effect which rises out from the deep black buckle, a fantastic looking Celtic buckle which was derived from Celtic art - associated with the people known as Celts which covered a huge expanse of time.
Celtic usually refers to the culture of the European Iron Age from around 100BC onwards. Hand finished in the USA.
What size do I need when ordering a belt?
When when you purchase your belt we need your external waist measurement. This is the measurement for the belt to fit over any garments that you will wearing it with.
Usually this adds at least 2 inches to your normal waist size, however for the best results measure an existing belt from the pin in the buckle to the hole that you wear the belt on. Use the resultant measurement to order your belt.
View our delivery & returns policy
You may also like...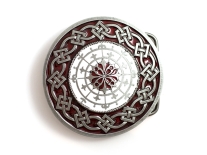 Celtic White Centre Boss Shield
Belt Buckle
£20.95
FREE UK Delivery
(Approx $32 / €25)
Buy now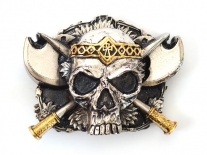 £19.95
FREE UK Delivery
(Approx $31 / €23)
Buy now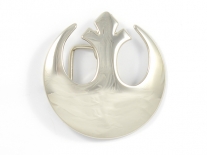 Star Wars Rebel Alliance
Belt Buckle
£10.95
FREE UK Delivery
(Approx $17 / €13)
Buy now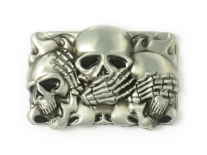 See No Evil, Hear No Evil, Speak No Evil Skulls
Belt Buckle
£10.95
FREE UK Delivery
(Approx $17 / €13)
Buy now